The Directors and Management of The Great Central Railway are delighted to announce that The National Lottery Heritage Fund have awarded £250,000 of support to the Railway from the Heritage Emergency Fund, which was set up to assist heritage organizations at risk due to the Covid-19 pandemic.
Speaking about the news, GCR's Managing Director, Michael Gough said "This is a huge relief to all of our management, staff and volunteers and comes at a point when the Railway is going through an incredibly difficult and stressful time in navigating the impact of the Covid crisis. Despite the fact that significant hard work has gone into operational recovery with many services now running again, much of what we are able to do to generate essential income is  severely hampered by restrictions, reductions in capacity and significantly increased costs and we are so grateful that The National Lottery Heritage Fund has agreed to help us with our recovery at this crucial time."
Anne Jenkins, Director, England, Midlands & East at The National Lottery Heritage Fund, said: "Heritage has an essential role to play in making communities better places to live, supporting economic regeneration and benefiting our personal wellbeing. All of these things are going to be even more important as we emerge from this current crisis."
"Thanks to money raised by National Lottery players we are pleased to be able to lend our support to organisations such as The Great Central Railway during this uncertain time."
Due to the Covid-19 pandemic (and having taken the advice of our auditors) with the need to conduct our business safely, this meeting will be held by the Directors behind closed doors.  We will be unable to allow entry to any other persons, due to the overriding need to protect everyone, and the sheer impracticality of holding a Covid-safe meeting for a large number of individuals.
Arrangements are being made to issue the formal notices of the meeting to shareholders in the usual manner. This will include the normal proxy form enabling shareholders to vote on the formal resolutions.
Great Central Railway PLC announces the appointment of The Rt. Honourable, The Baroness Morgan as a director.
The Board of Great Central Railway are delighted to announce the appointment of The Rt. Hon the Baroness Morgan of Cotes (Nicky Morgan) to the GCR Board as a non-executive director.
Baroness Morgan, formerly Loughborough's Member of Parliament and Cabinet Minister for Digital, Culture, Media and Sport and now a Member of the House of Lords has already been a strong supporter and friend to the Railway for many years. She will take up the directorship from 1st June.
Commenting on the news, GCR's Managing Director, Michael Gough said; "I am so very proud that Nicky has accepted this position – she will bring an entire new level of advice and gravitas to our corporate governance. As the Railway grows in popularity and strength, it will be so useful to have her massive experience and knowledge to hand"
Nicky said "I am very excited to be joining the GCR Board. The GCR has a very special place in the hearts of Leicestershire residents and beyond. I've worked with and enjoyed the Railway as their MP, as the founding Chair of the All-Party Parliamentary Group on Heritage Rail and also as an enthusiastic GCR local member for over 15 years now. I look forward to supporting the Railway's exciting future and working with all GCR employees and volunteers."
We are running some further test trains on Sunday of this weekend (31st May) and will open up the car park field adjacent to Quorn station for those who want to get a "steam fix" and photographic opportunities of one of the first heritage railways to run trains since lockdown.
As it stands, Standard Class 2 locomotive 78018 will be in traffic but this is subject to change as circumstances dictate. There is a strong chance that we will also be running some tests and equipment movements involving our diesel Class 37 during the course of the same day, albeit again subject to confirmation.
There will be no access to platforms and the cafés will not be able to open.
Approximate departure times from Loughborough are 13.00; 14.30 and 16.00.
We also suggest that to maintain social distancing, people remain in their cars to watch the trains, although if you decide to step outside, please ensure that you are at least 2 metres away from anyone who is not from your immediate household
Several new images each day while the railway is temporarily sleeping...
We'll be regularly updating our website with a selection of photographs taken on the railway in previous years. Special thanks to the photographers who have kindly provided images for use here.
We hope you enjoy the selection each day.
The Great Central Railway Annual General Meeting scheduled for the 4th July 2020 has been postponed due to the Covid-19 crisis. Even allowing for the fact that we are hopeful that social distancing regulations will have been relaxed by then, our auditors are currently closed due to the crisis and have confirmed to us this week that it will be impossible to complete audited accounts in time for the AGM to proceed. A new date will be announced as soon as the Railway and auditors are able to return to normal working.
Under advice from our auditors we have applied for and been granted the government's 3 month filing extension and thus a new AGM date is likely to be late September or early October.
Volunteer members of the Boscastle team will be offering informative tours of the Loughborough Locomotive Shed on Saturday 14 and Sunday 15 March.
The tours will be at:
  11 00, 11 45, 12 45, 13 30, 14 15, 15 30 and 16 15.
Party size is limited at the discretion of the guide.
Please assemble outside the loco shed door and await guide.
Tours last approximately half an hour; please allow 10 minutes to walk to the shed prior to the tour and 10 minutes to walk back again.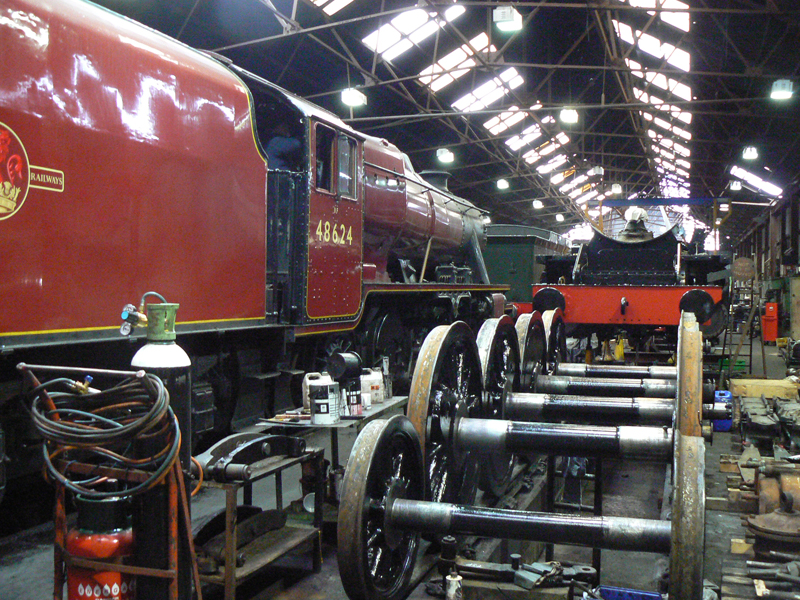 YOUR CHANCE TO SEE RESTORATION, OVERHAUL AND REPAIR WORK IN PROGRESS AND HEAR ABOUT THE PLACE OF 'BOSCASTLE' IN THE STORY OF THE GREAT CENTRAL RAILWAY.
There is no charge for the tour, but donations towards the overhaul of Rebuilt 'West Country' Class 4-6-2 no. 34039 Boscastle will be much appreciated - especially in view of the major work needed on the firebox.
PLEASE NOTE:  Visitors are required to be in possession of valid GCR travel tickets or platform tickets.   Tours are not suitable for children under 6, or for pushchairs.
All locomotives and attractions appear subject to availability. Great Central Railway reserves the right to amend or cancel any service.
FUNDRAISING BEGINS FOR NEXT SECTION OF AMBITIOUS 'REUNIFICATION' PROJECT
TWO STAGES OF SCHEME TO CREATE EIGHTEEN MILE HERITAGE LINE NOW COMPLETE
ONE HUNDRED THOUSAND POUNDS ALREADY COMMITTED FOR PHASE THREE
Plans to reconnect the two halves of the Great Central creating a heritage railway spanning the East Midlands are taking a major step forward with the announcement of a new fundraising drive. The Friends of the Great Central Main Line, (the members club which supports the award winning visitor attraction) has set a target of three million pounds to build two more major pieces of infrastructure.
The Great Central Railway running between Loughborough and Leicester is separated from another section of the line (which runs northwards towards Nottingham) by just 500 metres of missing rails, bridges and embankments. These were lost following the closure of the line in the 1960s. The project to rebuild the line is called 'Reunification' and will create an eighteen mile heritage railway.
Two pieces of the project have now been completed; a brand new bridge to carry heritage trains over the Midland Main Line at Loughborough and the refurbishment of an existing bridge over the Grand Union canal.
"We've already achieved so much to reunify the two halves of the Great Central Railway," said Andy Fillingham, the Chairman of the Friends of the Great Central Main Line. "Millions of pounds have been raised and spent already on delivering this exciting project. Now we want to build not one, but two further sections which include crossing a factory car park and a road called Railway Terrace."
The next phase of the fundraising campaign has been dubbed the 'Factory Flyover'. Two bridge decks which Network Rail had no further use for and were able to generously donate to the Great Central, will be incorporated into the work. Building two pieces of the jigsaw at the same time - rather than separately - is expected to be cheaper overall.
"We have an ambitious target for our new appeal of three million pounds. We've already raised that amount of money for previous elements of the project so we know it can be done with everyone's support," continued Andy.
The Leicester and Leicestershire Enterprise Partnership have previously supported reunification with a substantial grant from their Local Growth Fund. Meanwhile hundreds of people from across the country are donating money every month. One hundred thousand pounds is already 'in the pot' towards the three million pound target.
While Friends role is to raise the money and promote the scheme, the donations go to the David Clarke Railway Trust which supports the Great Central. Money raised for reunification goes into a 'ringfenced' fund meaning it can only be used for that purpose. They have recently announced the 400th donor has signed up to give money every month. This is on top of donors who make a 'one off' gift.
"We know so many people from around the world are interested in seeing reunification succeed," added Andy. "We're humbled and delighted by the financial support we're receiving. We truly believe we can succeed and deliver not only a heritage railway for the nation to be proud of but also an economic asset which supports the East Midlands service sector. With momentum building we are not daunted by our new fundraising challenge. Work can only proceed when we have the vast majority of funds available so if you want to see this happen, now is the time to get on board and support the Factory Flyover appeal." To find out more about the project, see progress updates and to donate on line head to www.gcrailway.co.uk/unify
GWR '4073' CLASS "THORNBURY CASTLE" TO BE RESTORED AND BASED AT THE GREAT CENTRAL RAILWAY
GWR 4073 Class number 7027 "Thornbury Castle" has been sold to a private buyer, the present owners JJP Holdings have announced today. Under the sale and purchase agreement, the Great Western locomotive is to be restored at the Great Central Railway in Leicestershire and will run there for the duration of its next 10-year ticket.
The new owner, who is a significant supporter of the GCR, has confirmed that it will not be made available for any mainline operation. It requires significant restoration which will be carried out at the Great Central's locomotive works in Loughborough under the watchful eye of their Chief Engineer, Craig Stinchcombe.
The loco, currently housed at the West Somerset Railway's Williton depot, will be transported by road to Loughborough during week commencing 27th January.
Built in 1949 by British Railways at the Swindon works, N0. 7027 was initially allocated to Plymouth Laira before moving to Old Oak Common some 10 years later, with its last shed allocation being Reading before being withdrawn from service in 1963 and being transported to Woodham Brothers Scrapyard at Barry. It was purchased by the Birmingham Railway Museum and left Barry in 1972. Subsequent to this it was purchased by the Waterman Railway Heritage Trust and remained in scrapyard condition for stays at Crewe Heritage Centre and Peak Rail until being purchased by the current owners in July 2016
Jonathan Jones-Pratt (JJP) said, "We are obviously sad in many ways to lose this iconic engine from the Group but, at the same time, very pleased as I always wish to see the right decision being made for these wonderful engines.   For me, this is a good move for Thornbury and we have been pleased to play a key part in ensuring the engine is restored as a Castle and we are satisfied that there is the right commitment to rebuild the engine to the right standard.  We wish the Great Central team well with the project and, personally, I welcome the chance to help them along the journey.   The engine will now leave the WSR over the coming weeks for her new home where I am sure the team will be waiting to get started!"
GCR's Managing Director, Michael Gough commented "We are very excited that this iconic locomotive is coming to the GCR and very proud that the new owner has chosen to have it restored in our works and for it to run here at the Great Central once completed. This is a major project and will involve significant hours and expense but we are ready for the challenge and looking forward to its arrival next week."