While the railway is temporarily sleeping, we'll be regularly updating our website with a selection of photographs taken on the railway in previous years. Special thanks to the photographers who have kindly provided images for use here.
We hope you enjoy the selection each day.
---
Sunday 29th March - 10:00
---
Saturday 28th March - 19:00
---
Saturday 28th March - 14:00
---
Saturday 28th March - 10:00
"In these unprecedented times of 2020, our "Goods Galore" gala must wait for another day, but today we bring you the sights and sounds of a goods train, even if only on film for now. Goods Galore will return!"
Video © Great Central Railway/AJM
---
Friday 27th March - 19:00
---
Friday 27th March - 12:50
---
Friday 27th March - 09:30
---
Thursday 26th March - 18:30
---
Thursday 26th March 2020 - 14:00
---
Thursday 26th March 2020 - 09:00
---
Wednesday 25th March 2020 - 13:00
---
For the latest news on events and running days during this public health emergency, please see www.gcrailway.co.uk/coronavirus
The Great Central Railway PLC's annual general meeting will be held at the Loughborough Grammar School LE11 2DU on Saturday 4th July 2020 at 10.30 am (doors open from 10 am).
As usual, this meeting will be followed at 12.30 pm, or shortly afterwards, by the annual general meeting of Friends of Great Central Main Line.
Car parking is available on-site, including disabled parking closest to the building entrance.
Volunteer members of the Boscastle team will be offering informative tours of the Loughborough Locomotive Shed on Saturday 14 and Sunday 15 March.
The tours will be at:
  11 00, 11 45, 12 45, 13 30, 14 15, 15 30 and 16 15.
Party size is limited at the discretion of the guide.
Please assemble outside the loco shed door and await guide.
Tours last approximately half an hour; please allow 10 minutes to walk to the shed prior to the tour and 10 minutes to walk back again.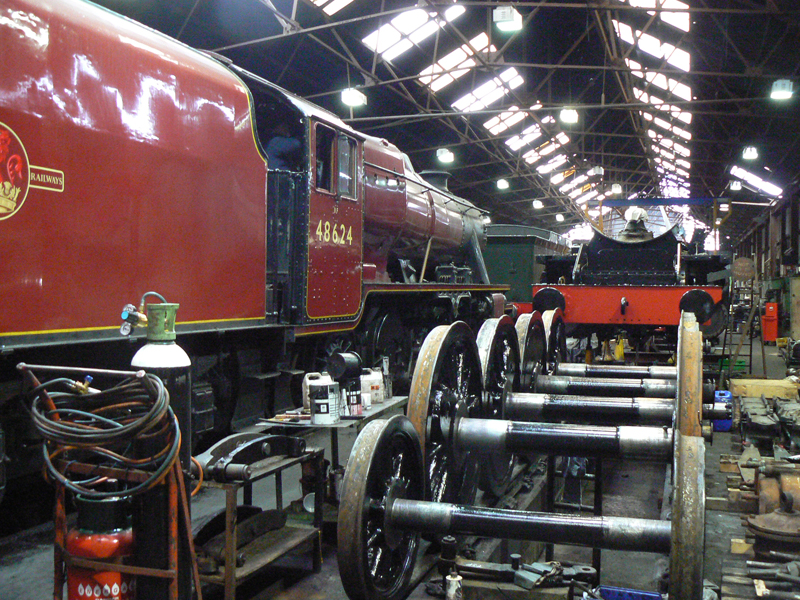 YOUR CHANCE TO SEE RESTORATION, OVERHAUL AND REPAIR WORK IN PROGRESS AND HEAR ABOUT THE PLACE OF 'BOSCASTLE' IN THE STORY OF THE GREAT CENTRAL RAILWAY.
There is no charge for the tour, but donations towards the overhaul of Rebuilt 'West Country' Class 4-6-2 no. 34039 Boscastle will be much appreciated - especially in view of the major work needed on the firebox.
PLEASE NOTE:  Visitors are required to be in possession of valid GCR travel tickets or platform tickets.   Tours are not suitable for children under 6, or for pushchairs.
All locomotives and attractions appear subject to availability. Great Central Railway reserves the right to amend or cancel any service.
FUNDRAISING BEGINS FOR NEXT SECTION OF AMBITIOUS 'REUNIFICATION' PROJECT
TWO STAGES OF SCHEME TO CREATE EIGHTEEN MILE HERITAGE LINE NOW COMPLETE
ONE HUNDRED THOUSAND POUNDS ALREADY COMMITTED FOR PHASE THREE
Plans to reconnect the two halves of the Great Central creating a heritage railway spanning the East Midlands are taking a major step forward with the announcement of a new fundraising drive. The Friends of the Great Central Main Line, (the members club which supports the award winning visitor attraction) has set a target of three million pounds to build two more major pieces of infrastructure.
The Great Central Railway running between Loughborough and Leicester is separated from another section of the line (which runs northwards towards Nottingham) by just 500 metres of missing rails, bridges and embankments. These were lost following the closure of the line in the 1960s. The project to rebuild the line is called 'Reunification' and will create an eighteen mile heritage railway.
Two pieces of the project have now been completed; a brand new bridge to carry heritage trains over the Midland Main Line at Loughborough and the refurbishment of an existing bridge over the Grand Union canal.
"We've already achieved so much to reunify the two halves of the Great Central Railway," said Andy Fillingham, the Chairman of the Friends of the Great Central Main Line. "Millions of pounds have been raised and spent already on delivering this exciting project. Now we want to build not one, but two further sections which include crossing a factory car park and a road called Railway Terrace."
The next phase of the fundraising campaign has been dubbed the 'Factory Flyover'. Two bridge decks which Network Rail had no further use for and were able to generously donate to the Great Central, will be incorporated into the work. Building two pieces of the jigsaw at the same time - rather than separately - is expected to be cheaper overall.
"We have an ambitious target for our new appeal of three million pounds. We've already raised that amount of money for previous elements of the project so we know it can be done with everyone's support," continued Andy.
The Leicester and Leicestershire Enterprise Partnership have previously supported reunification with a substantial grant from their Local Growth Fund. Meanwhile hundreds of people from across the country are donating money every month. One hundred thousand pounds is already 'in the pot' towards the three million pound target.
While Friends role is to raise the money and promote the scheme, the donations go to the David Clarke Railway Trust which supports the Great Central. Money raised for reunification goes into a 'ringfenced' fund meaning it can only be used for that purpose. They have recently announced the 400th donor has signed up to give money every month. This is on top of donors who make a 'one off' gift.
"We know so many people from around the world are interested in seeing reunification succeed," added Andy. "We're humbled and delighted by the financial support we're receiving. We truly believe we can succeed and deliver not only a heritage railway for the nation to be proud of but also an economic asset which supports the East Midlands service sector. With momentum building we are not daunted by our new fundraising challenge. Work can only proceed when we have the vast majority of funds available so if you want to see this happen, now is the time to get on board and support the Factory Flyover appeal." To find out more about the project, see progress updates and to donate on line head to www.gcrailway.co.uk/unify
GWR '4073' CLASS "THORNBURY CASTLE" TO BE RESTORED AND BASED AT THE GREAT CENTRAL RAILWAY
GWR 4073 Class number 7027 "Thornbury Castle" has been sold to a private buyer, the present owners JJP Holdings have announced today. Under the sale and purchase agreement, the Great Western locomotive is to be restored at the Great Central Railway in Leicestershire and will run there for the duration of its next 10-year ticket.
The new owner, who is a significant supporter of the GCR, has confirmed that it will not be made available for any mainline operation. It requires significant restoration which will be carried out at the Great Central's locomotive works in Loughborough under the watchful eye of their Chief Engineer, Craig Stinchcombe.
The loco, currently housed at the West Somerset Railway's Williton depot, will be transported by road to Loughborough during week commencing 27th January.
Built in 1949 by British Railways at the Swindon works, N0. 7027 was initially allocated to Plymouth Laira before moving to Old Oak Common some 10 years later, with its last shed allocation being Reading before being withdrawn from service in 1963 and being transported to Woodham Brothers Scrapyard at Barry. It was purchased by the Birmingham Railway Museum and left Barry in 1972. Subsequent to this it was purchased by the Waterman Railway Heritage Trust and remained in scrapyard condition for stays at Crewe Heritage Centre and Peak Rail until being purchased by the current owners in July 2016
Jonathan Jones-Pratt (JJP) said, "We are obviously sad in many ways to lose this iconic engine from the Group but, at the same time, very pleased as I always wish to see the right decision being made for these wonderful engines.   For me, this is a good move for Thornbury and we have been pleased to play a key part in ensuring the engine is restored as a Castle and we are satisfied that there is the right commitment to rebuild the engine to the right standard.  We wish the Great Central team well with the project and, personally, I welcome the chance to help them along the journey.   The engine will now leave the WSR over the coming weeks for her new home where I am sure the team will be waiting to get started!"
GCR's Managing Director, Michael Gough commented "We are very excited that this iconic locomotive is coming to the GCR and very proud that the new owner has chosen to have it restored in our works and for it to run here at the Great Central once completed. This is a major project and will involve significant hours and expense but we are ready for the challenge and looking forward to its arrival next week."
We are very sorry to report the passing of Eric Boulter who passed away on Sunday after a long period of illness.
Eric will be fondly remembered for his years of service on the Griddle Car, with his customary shouts of "plates are hot" as he served many a satisfied customer their all-day breakfast.
Eric was a well respected member of the GCR family and will be sorely missed.
We will publish details of Eric's funeral arrangements when these are known.
A brand new episode of Antiques Road Trip will be on your screens on Thursday, 9th January at 16.30.
This will be special for Great Central Railway and all its supporters because we hosted Catherine Southon and the team last September - this will be the first viewing of the results!
It goes out as usual on BBC One.
Many of you will be familiar already with the Inspector Vignoles books authored by Stephen Done. With their success, thoughts have turned to the possibility of a TV series based on our fictional detective and his investigations of dastardly murder and crime up and down the GCR in the 1940s and 1950s.
To this end, the opportunity was taken some twelve months ago to shoot a short "taster" production in just one day here on the Railway. The weather was agreed by all involved to have been totally foul but maybe this has added to the mood and mysteriousness which was captured. Just click Inspector Vignoles to watch and enjoy for twenty minutes.
Friends of the Great Central Main Line are introducing a new class of Community Membership.
The purpose is to encourage organisations, of any size or type, to support the Railway and show their connection with us. These may include businesses, charities, education or public bodies, of any size or type. A new leaflet will be available shortly from the Friends office at Lovatt House; also the Friends web page has been updated.
A short launch event is being held at Quorn Station Marquee on Wed 23 Oct, with light refreshments, from 4.15-5.30 pm. Do please contact Friends@gcrailway.co.uk for an invitation if you'd wish to attend or for further details.